Easy actiTIME Reports
Discover your actiTIME data without the need of a data analyst or coding skills. Benefit from interactive dashboards, reports and data visualisation to make intelligent, informed decisions.
Simple to use: Fully customisable drag-and-drop Dashboards for your team, projects and customers
Sharing is caring: Powerful User Management to let users access the data they need
Free forever: Up to 2 Users for anyone and unlimited Users for Open Source Projects
Why do we believe that you profit from Exply for actiTIME?
A couple of years ago we created Exply to solve our own controlling issues with the built-in reports from ActiveCollab. With every new customer asking us to implement Exply, we get to know a new time tracking tool. Therefore actiTIME is yet another one in the list of time and project tracking tools.
Like every professional project management tool, actiTIME helps companies create and track projects, tasks and issues and empower team members to log task-specific working hours.
However, controlling is a very important key activity which helps projects succeed, enables you to learn from past mistakes and improve. As companies grow, controlling aspects become more complex over time. Simple KPIs (Key Performance Indicators) like income, expenses, debts, working time per project and team become insufficient for successful controlling and don't help you improve anymore.
That said, the basic report functionality of actiTime doesn't fit advanced controlling needs like:
Showing & comparing all non-billable hours vs billable vs total working time
Screening all non-productive (internal) time records that have a match with

customer name or
issues/tickets or
a list of other keywords

Comparing productive, internal and absent team member hours for individual teams
Showing all non-billable hours and total time per project
Comparing current project hours vs agreed budget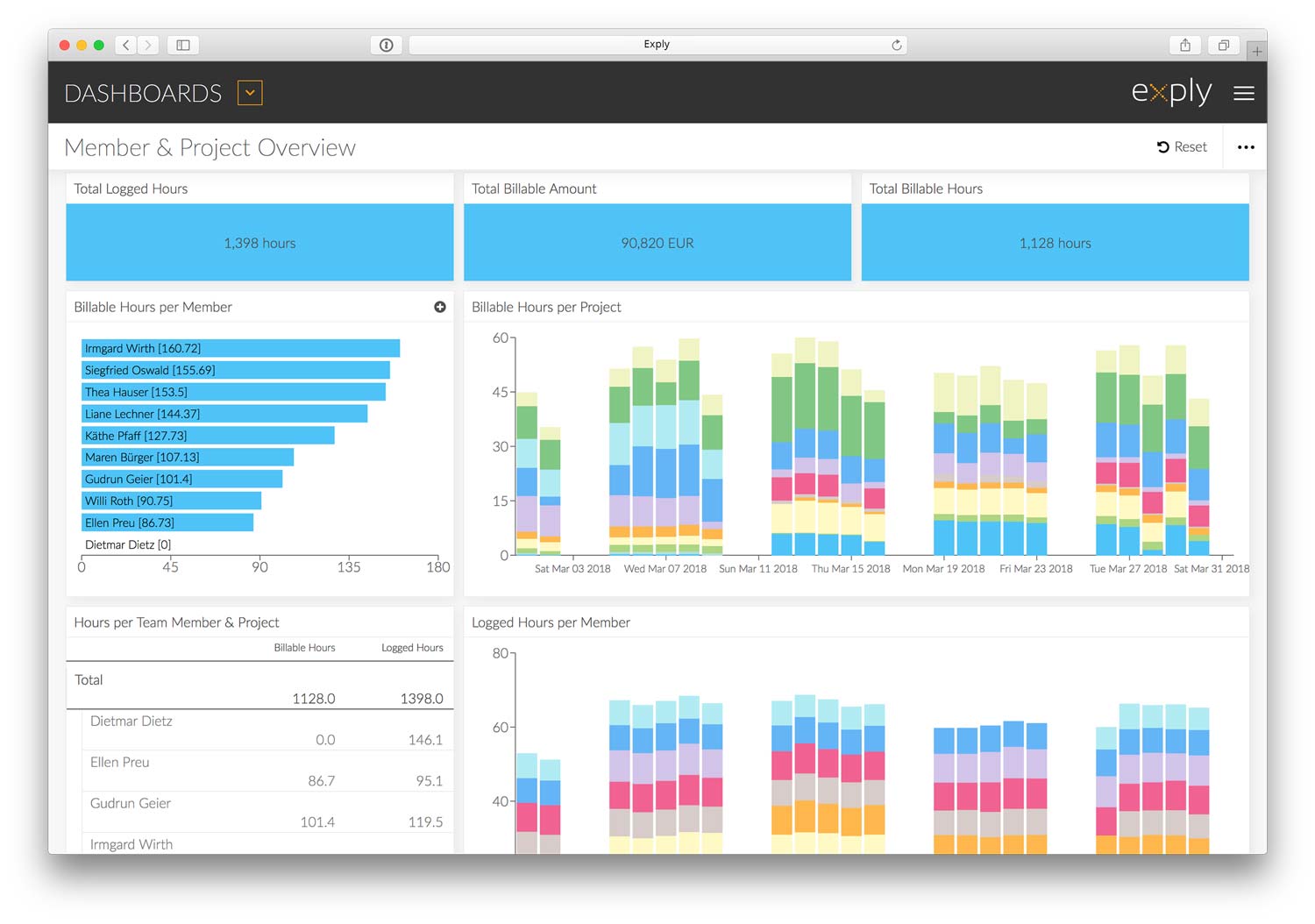 How does Exply for actiTIME work?
Exply works like the self-hosted actiTIME version, meaning that it needs a server (there's no Exply on cloud version yet). This also means that your data always belongs to you and stays on your machine. Exply directly connects to the actiTIME database and imports new data. You can choose how often you would like to import new data.
Exply uses the concept of dashboards over reports to easily visualise your data just the way you need. There are no limitations through standardised presets or a fixed structure. Create custom dashboards for your customers, projects, teams and more. Discover hidden potential with the blink of an eye - every time.
Especially agile teams and projects profit from Exply through an ingenious User Management, empowering them to grant customers access to their project dashboards with exactly the right data they need to see. Your projects and work profit from a whole new level of transparency, complete financial control and trust!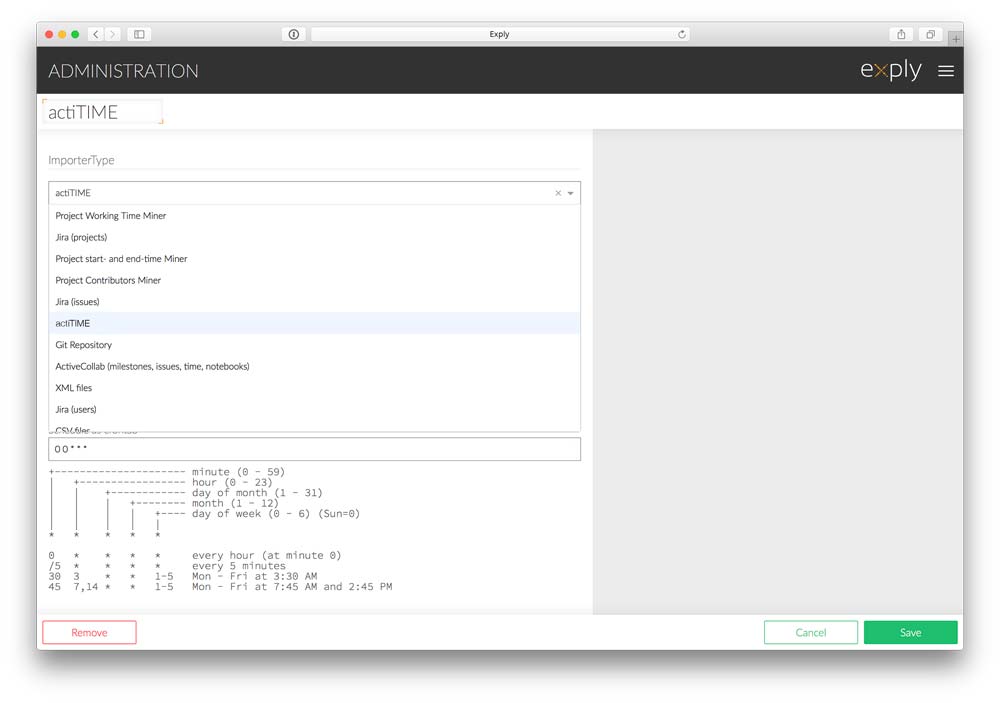 Your Benefits of Exply as an actiTIME Add-on
actiTIME is very useful in tracking time for projects, tasks, vacation and much more. However, in terms of complex controlling, there's still some room left for more.
For example, when project teams work on several systems like Jira and actiTIME, connecting both systems is the supreme discipline.
Instead of handling both systems separately, exporting data to merge it manually with the other one or building some big inefficient Excel worksheets, Exply combines both systems instantly. This, for example, empowers you to use a powerful global search with helpful auto completion.
That way you access your data the way you want and need, without limitations. Profit from a wide range of Exply features like:
Creating custom dashboards that match your specific use case
Comparing productivity of teams and projects with amounts of all non-billable vs billable hours and total time
Sharing dashboards that have been created for customer projects to show them all relevant project information for an agile approach like available budget, logged hours, finished tasks, etc. and raise the business relationship trust level
Export raw data, because raw data is powerful! ;)
...and much more!