Easy Jira & Tempo Reports
❤️Discover your data without the need of a data analyst or coding skills. Benefit from interactive dashboards, reports and data visualisation to make intelligent, informed decisions.
Simple to use: Fully customisable drag-and-drop Dashboards for your team, projects and customers
Sharing is caring: Powerful User Management to let users access the data they need
Free forever: Up to 2 Users for anyone and unlimited Users for Open Source Projects
Exply for Jira is a powerful Jira add-on to provide you with detailed data insights
Explore your existing Jira issues data to easily visualise your projects on the level you need: from your project portfolio overview in a single dashboard to detailed time records on individual tasks. Interactively experience your Jira issues & Tempo time tracking data in an intuitive UI.
Automatically create rich and powerful Jira dashboards, reports and charts with the Exply for Jira add-on using drag-and-drop.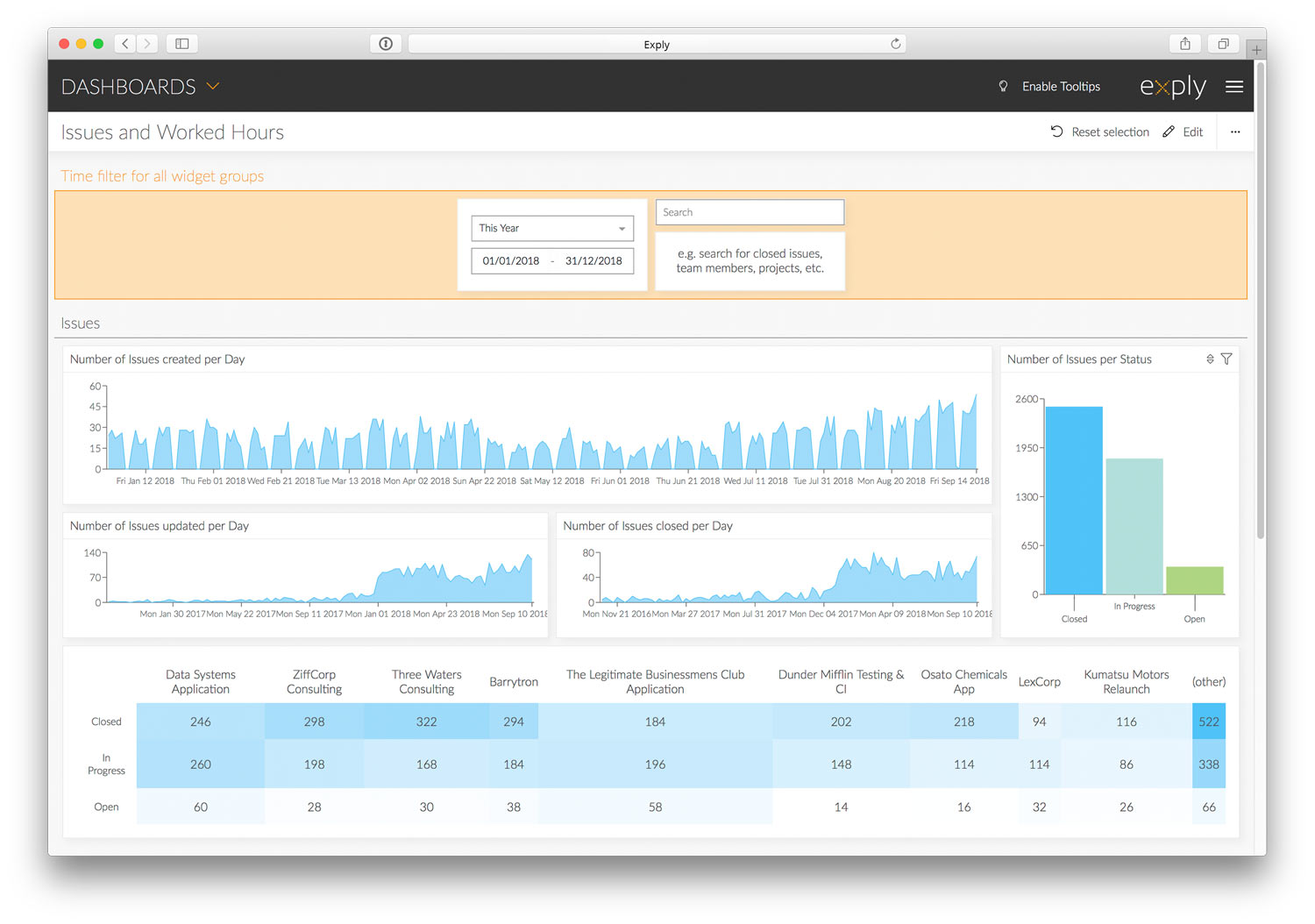 Main Features
Full integration of Jira and Tempo data enabling you to create advanced and complex time tracking reports
Jira and Tempo data are automatically imported into Exply – no complicated configuration needed!
Exply is fully integrated into Jira - just click the "Charts & Reports" button in the Jira navigation
Build custom, interactive reports and share them with others
Choose from a curated list of interactive widgets that can easily be customised
Live preview when adding or changing widgets
Data is imported every night or manually on demand
Jira project permissions are applied automatically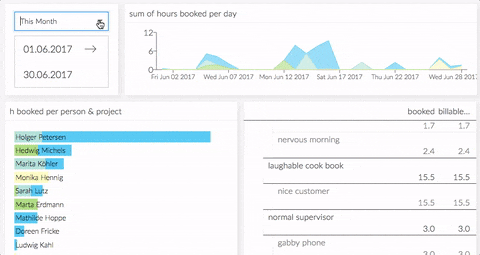 Custom & Interactive Reports
Building interactive reports with Exply is easy and fun and helps you keep your projects on track and get more out of your Jira and Tempo data.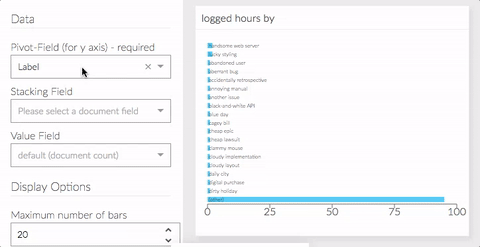 Interactive Widget Preview

When changing or adding widgets to your reports you always see a preview to better understand and explore your data.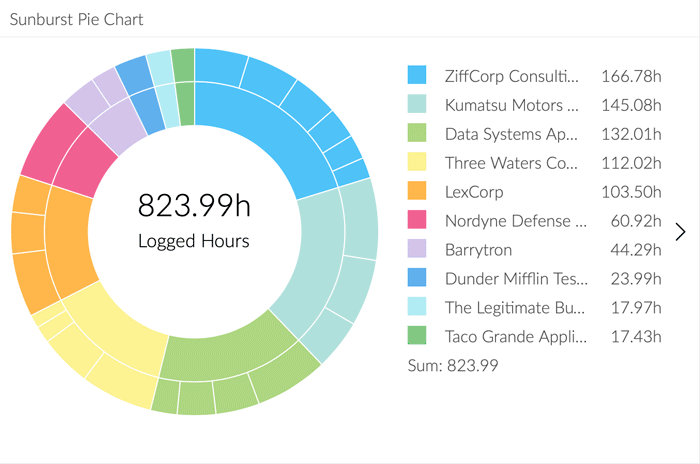 Curated Widget Types 
Choose from our curated widget types to better visualize and understand your Jira and Tempo timetracking data.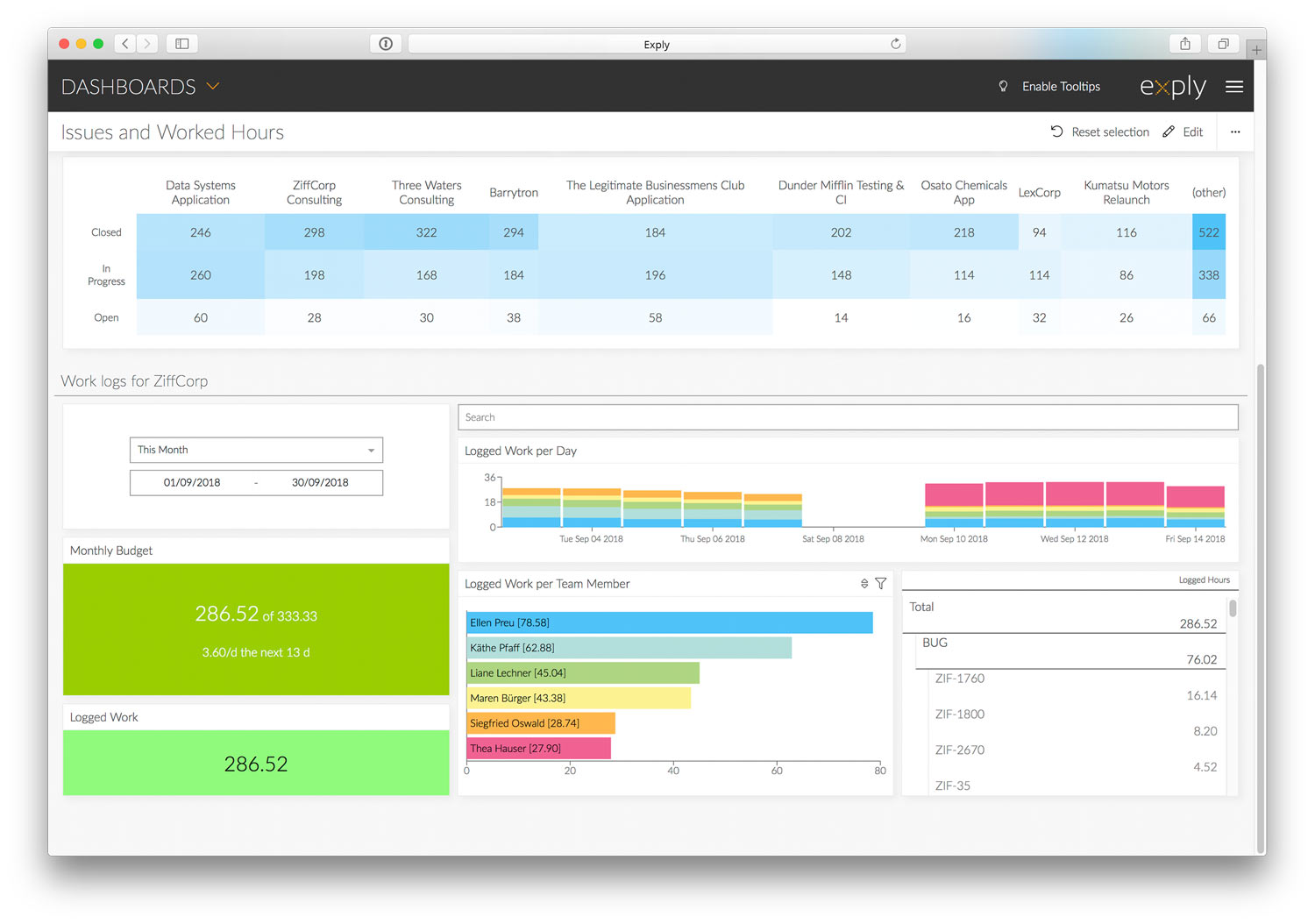 Get the most out of Your Jira & Tempo Time Tracking Data
The Tempo add-on for Jira is a very powerful tool to add time tracking functionality to Jira for a better controlling of projects.
Controlling and reporting is crucial for any company to successfully deliver projects on time, on budget and make their customers happy! Many software developers use Jira in combination with Tempo as an integrated environment for tracking time and expenses as well as monitoring project progress.
However Jira and Tempo do not offer advanced functionality that is fun and easy to use, to answer questions like:
How many productive (billable) hours were tracked by your team on a daily, weekly or monthly basis compared to non-billable ones?
How many projects are your team members working on in parallel?
Are all your projects still on track?
Which issues have been worked on the most?
Why does Exply for Jira & Tempo exist?
We built Exply for Jira to easily answer these questions, by providing a fun and simple way to create interactive and customised dashboards for your Jira issues and Tempo time tracking data without the need of a data analyst.
Easily connect your Jira instance with your working times collected through Tempo. Analyse and compare your time tracking data, control projects and manage your team to improve your results.