Easy ActiveCollab Reporting
Discover your ActiveCollab data without the need of a data analyst or coding skills. Benefit from interactive dashboards, reports and data visualisation to make intelligent, informed decisions.
Simple to use: Fully customizable drag-and-drop Dashboards for your team, projects and customers
Sharing is caring: Powerful User Management to let users access the data they need
Free forever: Up to 2 Users for anyone and unlimited Users for Open Source Projects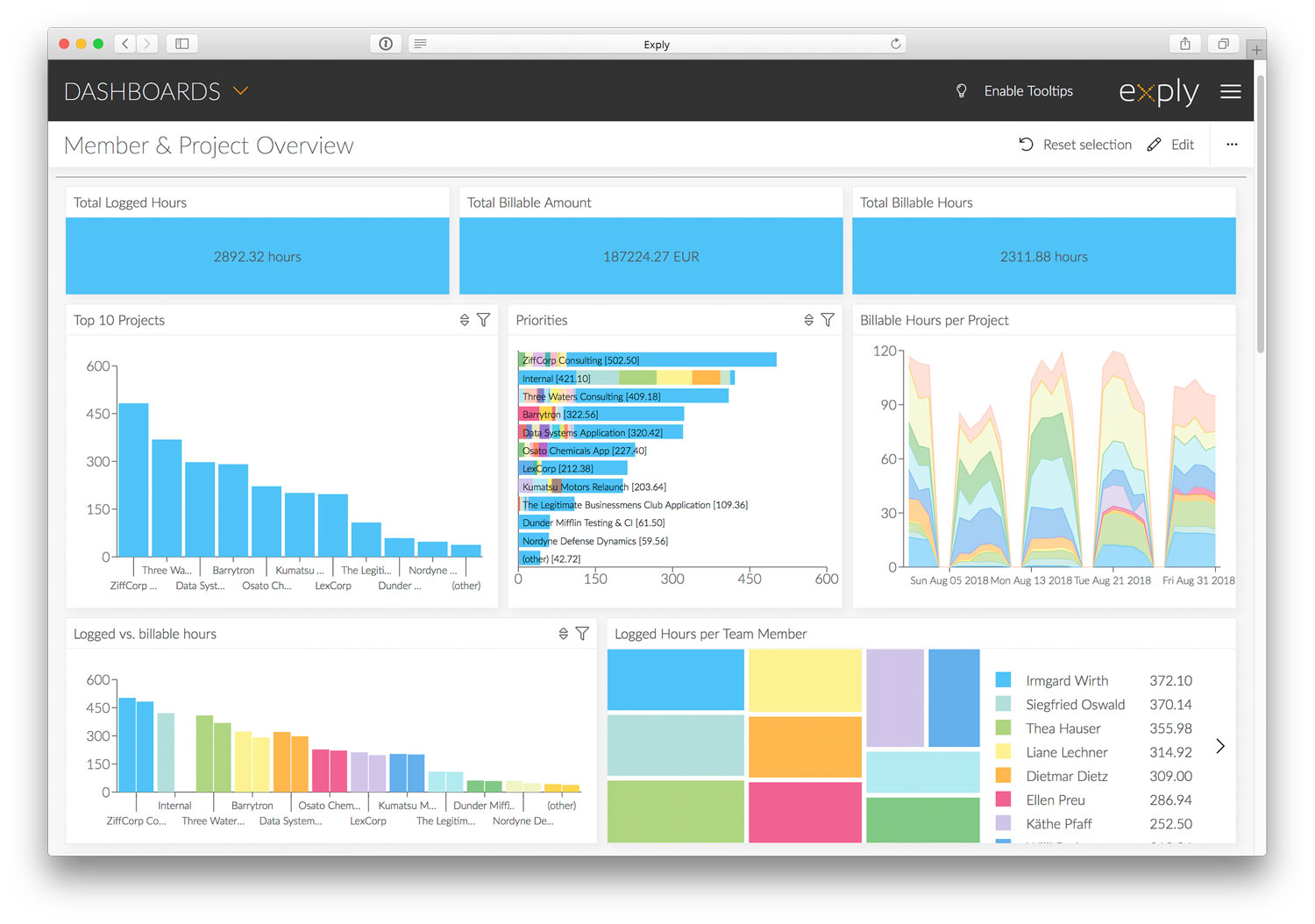 Improve your ActiveCollab Reports with Exply
Exply provides you with an ActiveCollab integration, empowering you to easily add value to your data with simple drag-and-drop dashboards and reports right at your fingertips.
Why does Exply exist?
ActiveCollab is a really useful project management tool to track time for different customers, projects and tasks. It also helps you create and track invoices. In general, the ActiveCollab reports show information about payments, assigned tasks, tracked time or expenses in predefined categories and dimensions.
We use ActiveCollab every day to track our individual times and assign them to customers, projects and tasks. But there's one major downside in ActiveCollab reports: we can't answer our important controlling questions, but we do know that the needed information is stored in the database!
The built-in ActiveCollab reports aren't satisfying and don't fit controlling needs. For example, the reports that answer the following controlling questions either need to be manually set up every single time one wants to use them or can't even be answered at all:
How many team members worked how many hours, per day/week/month on which project/task?
How many hours of the given budget have already been used?
How many hours need to be done within the next time period to accomplish the promised time budget with the given people?
How many productive hours do we have?
How many hours are billable and non-billable per project, team member, time period?
Report on time per member per tasklist
...and so on
We believe it should be simple to add value to your data
Therefore we built Exply as an ActiveCollab add-on to connect it to the time tracking database and get way more comprehensive reports without the need of a data analyst.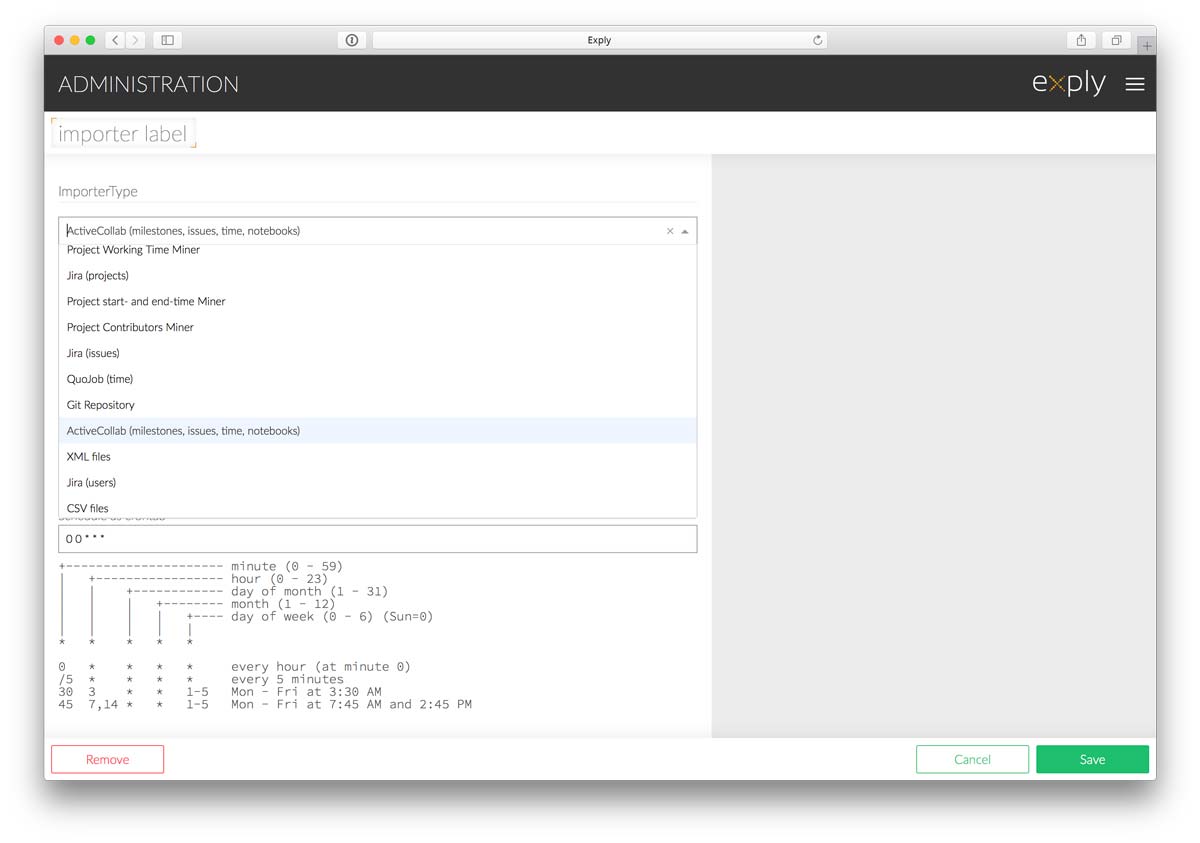 Exply as ActiveCollab Integration
The majority of ActiveCollab integrations basically extend the ActiveCollab instance at some point and add extra functionality. Exply works differently. We developed an individual data connector to import all ActiveCollab data into a separate database.
That way we can access them the way we want to and customise almost everything, unlocking the full potential of the available data. Having all data in a separate database provides several improvements and features:
Creating individual dashboards for specific use cases, customers and people
Comparing projects, customers and time spans with custom metrics
Granting customers access to their individual dashboards using personal logins, showing them all relevant project information like available budget, logged hours, finished tasks, etc.
Fulfilling our transparency policy by providing all data anytime, anywhere including custom permissions through complex user management
Exporting all available data as Excel sheets to work with it in 3rd party applications
Last but not least, by using this approach we are able to answer all the questions mentioned above as easily as possible.
Reports vs. Dashboards
One last thing: Every once in a while we discuss the necessity and purpose of classic reports, especially compared to dashboards. Two major questions always come up: What's the difference between dashboards and reports? Why does someone need a report when they have access to real-time data in a dashboard?
And the more often we think about it and discuss the pros and cons of both analysis types, the more useful dashboards seem to become and the more obsolete reports appear in our eyes.
Here's a more radical approach to this discussion:
Let's do a quick thought experiment. Imagine you're managing an agile team with mainly agile projects. Only having monthly reports showing you the past is like driving a car by just using the rear-view mirror. If you don't have the right data at the right time, you do not see dangerous situations coming up and are unable to adjust the course on time to avoid a crash.
Especially when looking at controlling and managing agile teams and projects, reacting to potential incidents is crucial! Is the team/project still on track or are they leaving the intended path? Does a project team need help fulfilling the guaranteed budget or goal on time?
Periodical reports - no matter if sent weekly, monthly or yearly - they will be too late by design in most cases. Sending reports daily or even hourly isn't useful, because it's obviously to spammy and doesn't fit the need of having the right information at the right time.
So if everyone in need of it is able to get the desired information right when and where they need it, isn't that better than waiting for the weekly/monthly update?
We'll leave the answer to this question up to you, because we believe that there's no single truth to this topic.