Easy QuoJob Controlling
Discover your QuoJob data without the need of a data analyst or coding skills. Benefit from interactive dashboards, reports and data visualisation to make intelligent, informed decisions.
Simple to use: Fully customisable drag-and-drop Dashboards for your team, projects and customers
Sharing is caring: Powerful User Management to let users access the data they need
Free forever: Up to 2 Users for anyone and unlimited Users for Open Source Projects
Why Exply for QuoJob?
We believe, at the bottom of our hearts, that working with and adding value to your own QuoJob data should be as easy as typing in a new project name, to get the most value out of it.
QuoJob is the fundamental basis for many agencies (web, full-service, etc.) covering all of their business processes like customers, projects, tasks and team members in their daily operations. It also enables them to create and track invoices, control projects and the organisation itself.
One of the major activities that needs to be done is controlling. Needless to say that controlling gets more important and complex as the company grows. Sure, some basic KPIs (Key Performance Indicators) like income, expenses, debts, etc. need to be known by every company, but beyond those basics, modern company controlling is as individual as the company itself. E.g. working time is not always black and white with productive and internal hours. Sometimes productive hours need to be split up further.
Therefore basic standardised reports designed by someone else with good intent don't fit advanced controlling needs like:
Comparing productive, internal and absent team member hours
Showing all non-billable work hours vs billable and total working time
Screening all non-productive (internal) time records that have a match with

customer name or
issues/tickets or
a list of other keywords

Comparing productive, internal and absent team member hours for individual teams
Showing all non-billable hours and total time per project
Comparing current project hours and agreed budget
How does Exply for QuoJob work?
First of all, your data belongs to you. Exply runs on your server or virtual machine and connects to your QuoJob database. You're in control of how often and when new data shall be imported into Exply.
Exply helps you to easily access and add value to your QuoJob data, empowering you to answer your essential controlling questions and discover hidden potentials in a snap - every time. You don't need to set up your carefully designed reports every time you need them. They are permanently saved for you and anyone you want to share them with.
To achieve this you're getting powerful and easy to use drag-and-drop dashboards and reports out of the box. Every dashboard is designed by you. Exply does not limit your creativity through standardised presets or a fixed structure for your widgets.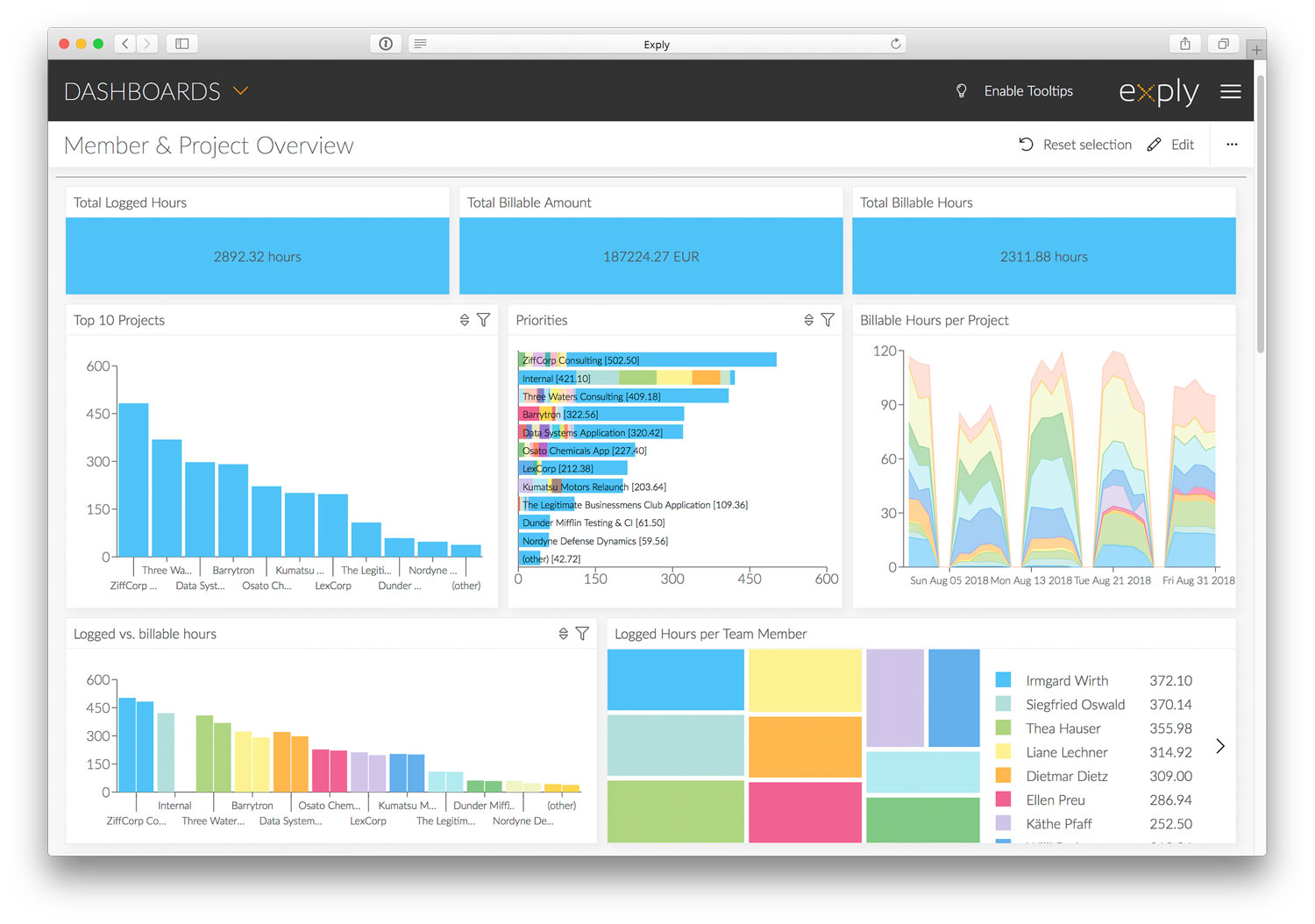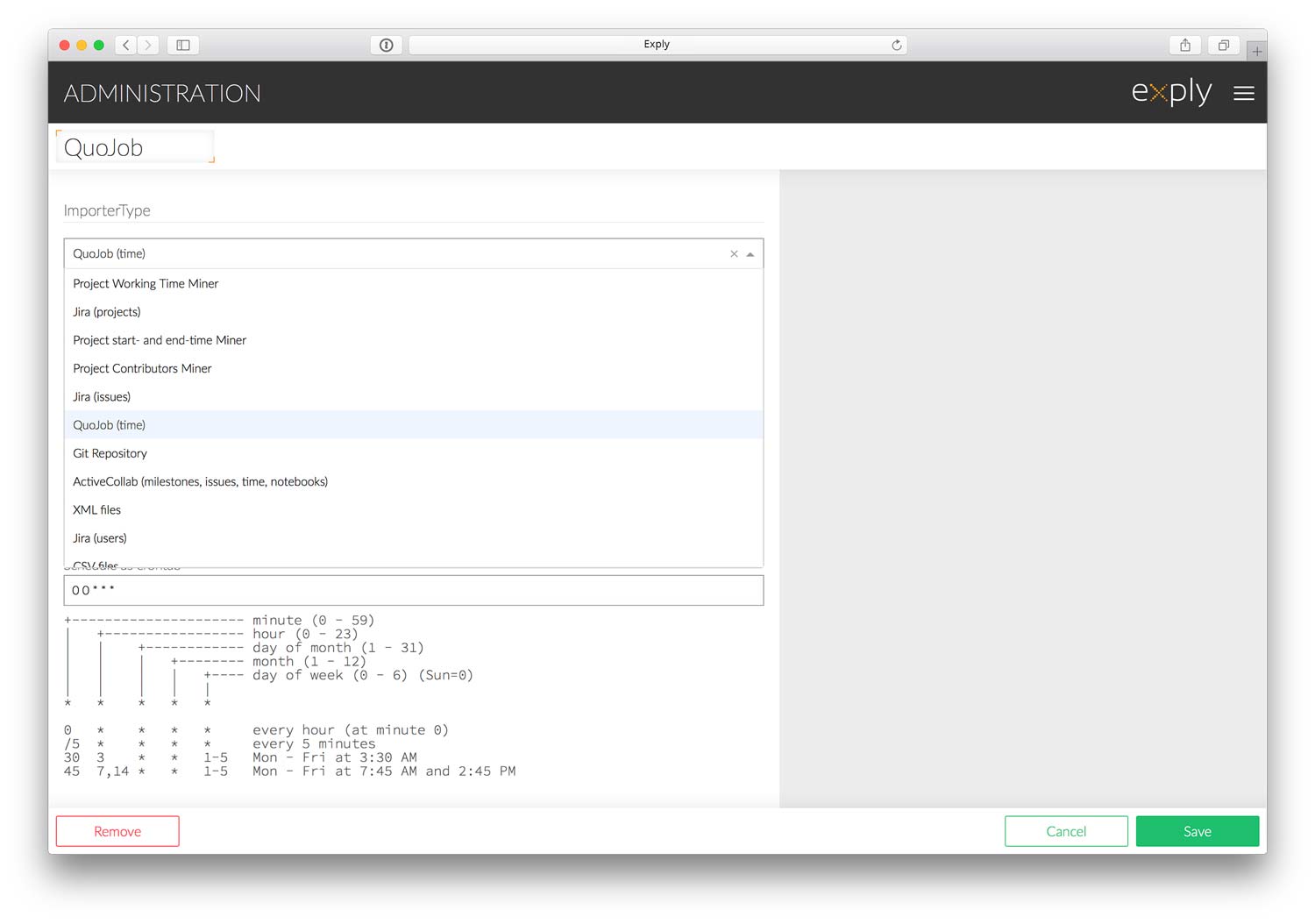 Your Benefits of Exply as a QuoJob Add-on
There's no doubt that QuoJob is a powerful software for all kinds of agencies. But in terms of controlling functionality there's way more to discover in the existing data. Instead of clustering all data in some basic categories we put it together, enabling you to, for example, take full advantage of a global search. That way you can access your data the way you want to without limitations. Profit from a wide range of Exply features:
Create custom dashboards matching your special use cases and needs
Compare projects by using detailed analytics e.g. showing the percentage of all non-billable tasks vs billable tasks and total time
Create and share individual customer dashboards using personal logins, showing them all relevant project information like available budget, logged hours, finished tasks, etc. and raise the business relationship trust level
Export all data you see or all raw data that was used to create the dashboard as Excel sheets to use it in 3rd party applications
...and much more!